Orange juice is considered very healthy as it contains fortunes of vitamins, antioxidants, Magnesium, Potassium, and many more healthy nutrients. So, it's significant for us to extract till the final drop is off from them. For this, we will require a proper orange juicer.
A proper juice extractor can squeeze out all healthy nutrients from an orange. Usually, we use citrus juicers for juicing oranges. So, if you buy one for juicing orange, you can also juice other citruses alongside oranges.
But when it comes to buying the best orange juicers, or what we mean by it is the best citrus Juicer, we come across a wide array of alternatives.
Therefore, it gets difficult for a person to make a judgment. But you don't have to concern now since we have picked the best juicers for oranges and lemons and citrus fruits for you after instructive research. So, let's scroll down to learn about them without any delay!
Quick Comparison of the best orange juicers –
How we tested the orange juicers
We had spent a long time running tests over these juicers. We had to experiment with each one individually. We tested 50+ juicers in terms of their durability, strength, cleaning process, juice yield, assemble-disassemble technique, price, and many other characteristics to decide what the best orange juicer is.
Some of them operated pretty well on every test. We read out their manuals first and then conducted experiments. After all these, we finally made the list of the best orange juicers that stood out high.
Best Juicer for Oranges – Our Top Picks
10 best juicers for oranges are listed below –
Juicer Specifications:
Type: Electric
Dimensions: 7.6 x 10.3 x 14 inches
Wattage: 110 Watts
Color: Silver
Material: Stainless Steel
Warranty: 1-year
What we liked the most: Smooth cleaning process
What we didn't like: Plastic parts are not good
The BREVILLE Citrus Press is a stand-out item for juicing oranges and most fruits. It has a pretty straightforward function. You can smoothly extract fresh juice from it without any nuisance. Just slash the fruits into two halves and place them on the reamer.
After pressing them with the acid-resistant cone, the built-in sensor will kick in and extract the juice all on its own.
You can apply more pressure with the handle, which ensures a high juice yield. Starting from oranges to grapefruits and lemons, you can juice all sorts of juicy fruits with it. The anti-drip spout will make sure your countertop remains clean during the process.
Plus, it is not much hard to clean since you can do it with normal rinse water. So, juice your fruits effortlessly and save more prep time with this excellent machine!
Pros
Easy to removable dome and clean
Always quiet and smooth operation
Stainless steel makes it highly durable
High juice yield and keeps the pulp dry
A handle for applying more pressure
Cons
Plastic parts wear down quickly
Exchangeable components are costly
2. Best juicer for oranges and lemons – SMEG Citrus Juicer
Juicer Specifications:
Type: Electric
Dimensions: 6.54 x 6.54 x 11.06 inches
Wattage: 80 Watts
Color: Pastel Green
Material: Plastic
What we liked the most: Stainless steel and anti-corrosive reamer
What we didn't like: You have to do the pressing
With the SMEG Citrus Juicer, you can effortlessly extract juice from oranges and other fruits. Its 80-watt motor with a built-in sensor ensures the pulp comes out completely dry. You will experience an easy and fun time while juicing with this.
We mainly liked its stainless steel reamer as we could easily squeeze juice from small or big fruits. Alongside being BPA-free and impact resistant, it is also easy to assemble and disassemble.
We loved its Anti-drip spout since it prevented the extracted juice from dripping and flowing. Besides, it comes with a handy Tritan cover as well. To sum up, it's a great Orange Press Juicer!
Pros
Strong 80-watt motor
The electric reamer accurately extracts juice!
Removable parts are BPA-Free
Easy to clean
Durable enough to last for a long time
Cons
Plastic parts can deteriorate quickly
Pressing will require more energy
Juicer Specifications:
Type: Centrifugal
Dimensions: 12.83 x 17.04 x 12.13 inches
Wattage: 1000 Watts
Color: Silver and Black
Material: Stainless Steel
What we liked the most: Works very fast and has three precision speeds
What we didn't like: The noise is unbearable
Despite not being much healthier than most cold press juicers, the NutriBullet NBJ50200 Pro can still serve better than many best cold press juicers on the market. You can extract juice from different fruits without any peeling with its 3-precision speed technology and powerful 1000w motor.
It has proved to be the fastest juicer for oranges. You can effortlessly assemble it and clean it with soap and water. Some parts of it are also dishwasher free. Besides, the big dual-size food pusher and 3″ chute will invariably save your prep time.
You will also be glad to know that it comes with many additional parts which can be handy for you, such as a nice pulp basin, no-drip spout, storage pitcher, freezer trays, glass bottles, cleaning brush, and recipe guide.
Pros
3-speed juicing and extracts fast
Powerful 1000-watt motor
Dishwasher-safe components
Wide feeding chute that saves prep time
Easy to assemble and dismantle
Cons
Doesn't leave the pulp dry
Makes loud noises
Juicer Specifications:
Type: Manual
Dimensions: 7 x 11.25 x 15.75 inches
Color: Silver and Black
Material: Cast Iron Stainless steel
Watts: 150-Watts
What we liked the most: Provides high juice yield despite being a manual juicer
What we didn't like: Can't juice big fruits
If you are looking for the best hand juicer for oranges, Zulay Professional Citrus Juicer will be the one. You can squeeze the juice from oranges and other fruits easily by pressing the handle only. Besides, it requires no electricity, which makes the operation easy for you.
It is built with heavy-duty cast iron that will last long and has a firm-grip handle that will keep your hands clean while juicing, providing a high juice yield. We have seen very few manual juicers like this that can extract so much juice. Enjoy a hassle-free juicing experience as you can juice easily by keeping the fruits in the 5-inch cup and pulling the lever.
Besides, the stainless-steel crafted machine has rubber feet that will fit nicely on the countertop. You can clean it by just wiping out the body with a wet cloth. Besides, the detachable parts are also dishwasher-safe!
Pros
Made of durable stainless steel
Easy and smooth hand squeeze technique
Extracts more juice
Dishwasher-safe parts and easy to clean
Stays secure and stable
Cons
Not for juicing big fruits
Quite heavy
Juicer Specifications:
Type: Manual
Dimensions: 3.25 x 10.25 x 2.75 inches
Color: Yellow
Material: Plastic, Nylon, and Stainless steel
Weight: 0.45 Kg
What we liked the most: Small design is convenient for household use
What we didn't like: Need to juice fruits one by one and consumes more time
Chef'n FreshForce Citrus Juicer producing 20% more juice than most ones is one of the best Orange Press Juicers on the market now. Unless there is no problem with hand squeezing this piece of equipment will work like a pro. Moreover, the innovative dual-gear mechanism will reduce any sort of hand fatigue.
The interesting fact about this juice is its convenient size that even fits inside your drawer! If you want to extract juice with it just put the already cut fruit on the stainless steel reamer and apply pressure with the double auger. Though it doesn't filter out seeds, the juice yield is always high.
Another benefit of being smaller is that you can clean it with water easily without much hassle. Besides, the dishwasher-free option is always there to free you from manual cleanup.
Pros
Easy to clean and dishwasher-safe
Requires less pressure to get juice
Built with long-lasting materials
Lightweight and can be kept inside a drawer
Very easy to use
Cons
Doesn't remove seeds
Requires more prep time
Juicer Specifications:
Type: Electric
Dimensions: 5.75 x 6.38 x 10.75 Inches
Warranty: 3 years
Color: Silver and Black
Material: Stainless Steel
wattage: 800 Watts
Weight: 4 Pounds
What we liked the most: Can juice any type of fruit
What we didn't like: Works slow
Cuisinart has been providing us with quality kitchen appliances for a long time. The Cuisinart CCJ-500 Juicer is not any different. It is conceivably the best orange juicer for home use. Its versatile cone can fit in any fruit alongside an orange, and the 3-pulp control settings make juicing easy and fun.
It also comes with an auto-reversing reamer that can extract juice at a high and efficient speed. Besides, you can get the last drop of juice from it with the final spin feature. It requires hardly any time for cleaning as the detachable parts are dishwasher-free.
You can also keep your countertop clean due to the no-drip spout and protect the juice from dust with the cover. Moreover, its sleek, stainless design will fit nicely on your countertop.
Pros
A reverse reamer makes juicing effortless
The final spin feature ensures a high juice yield
Dishwasher-free parts and 3 pulp settings
Parts are easy to clean and disassemble
The universal cone can fit anything
Cons
Cannot fit more fruit at a time
Need more prep time and not dishwasher-safe
Juicer Specifications:
Type: Electric
Dimensions: 9 x 6 x 6 inches
Wattage: 30 Watts
Color: Transparent
Material: Plastic
What we liked the most: The pulp control settings help a lot alongside the auto-reversing system
What we didn't like: Needs more electricity
The BLACK & Decker CJ625 Citrus Juicer is the best mini powerhouse on the market. Despite having such a small size, its work rate is tremendous. You will see two auto-reversing cones in it for juicing small and large fruits. Its 150-watt motor will extract juice in a minute for you!
It has a sleek and compact design that will fit on your countertop nicely. Also, you will get adjustable pulp control settings to prevent clogging or jamming. Besides, the removable pulp basket keeps the pulp away while you work.
You can even notice how much pulp is required due to its transparent body. You can also clean it properly by rinsing water or dismantling the parts.
Pros
Strong despite being small
Two auto-reversing cones
Pulp control settings prevent jamming
Dishwasher-safe parts
Transparent material and compact design
Cons
Makes noise
Uses more electric
Juicer Specifications:
Type: Electric
Dimensions: 8.5 x 8.6 x 6.3 Inches
Warranty: 3 years
Color: Transparent and yellow
Material: Plastic
Motor: 150 watts
What we liked the most: Produces healthy juice quickly and takes very little time to clean
What we didn't like: Not for juicing all types of citrus fruits
Since it is a product of Alex's Lemonade Stand Charity Foundation for fighting against cancer, the Proctor Silex Alex's Lemonade Citrus Juicer has a high reputation on the market. It has two reamers for juicing small and large fruits though the reamers cannot fit all types of fruits and don't even have the auto-reversing feature.
However, you will get a pulp control dial for setting the measurement of the pulp you want. In most cases, we found this item extremely adaptable. Though we needed more prep time with some big fruits, we could easily extract juice from most of them quickly.
You can serve a lot of people with its 34-OZ big container that can store a lot of juice. The parts are also very easy to assemble and disassemble. Therefore, you can clean it easily with a wet cloth or water.
Pros
Quick and easy-to-extract juice
Pulp control settings to select the pulp ratio
Easy to assemble-disassemble
Cleaning takes less time
Not much costly
Cons
The reamers can't fit in everything
No auto-reverse feature to prevent clogging
Juicer Specifications:
Type: Manual
Dimensions: 5.2 x 5.7 x 8.5 inches
Color: Transparent and orange
Capacity: 350 Milliliters
Wattage: 150 Watts
Weight: 6.5 Ounces
What we liked the most: High juice yield despite being a small juicer
What we didn't like: You have to be careful with using the plastic parts
OXO Good Grips 2-in-1 Citrus Juicer is the best manual orange juicer. If you are looking for one of the best electric orange juicers to juice fresh juice alongside getting a high juice yield, this one will be perfect for you. It comes with a measuring cup so that you can preserve every drop of juice with perfection.
It has BPA-free parts and a compact design that is convenient for your countertop. Besides, you will get two reamers to extract juice from both large and small fruits.
We liked its easy cleaning quality. The parts can be disassembled-assembled quickly and you can also use the dishwasher for proper cleanup. Besides, you can also keep your tabletop from juice overflowing with the anti-drip spout.
Pros
Dishwasher-safe parts for quick cleaning
Extremely lightweight and compact design
Two reamers for juicing all types of fruits
More juice yield
Low price
Cons
It takes time to extract the juice
The plastic container needs proper protection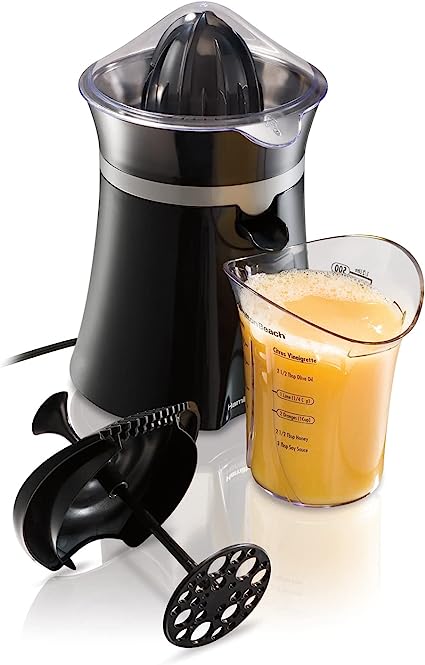 Juicer Specifications:
Type: Manual
Dimensions: 8.2 x 7.2 x 15.4 Inches
Color: Black
Watts: 30-Watts
Material: Plastic
weight: 4.18 Pounds
What we liked the most: Portable and very good for extracting more juice
What we didn't like: Plastic makes it vulnerable
The Hamilton Beach 66333 Fresh Mix 2-Cup Citrus juicer is becoming popular day by day for juicing numerous citrus fruits like oranges, pomegranates, lemons, etc. You can get the last drop of juice from it with the 30-watt power.
Unlike regular ones with low capacity, these ones have a 476 milliliters capacity to ensure more juice at a time. Besides, the auto-reverse juicing action will extract more juice.
You can easily fit in larger and smaller fruits with the two reamers, making it versatile. The cleaning becomes easy as it's comfortable to go into the dishwasher. In brief, it's a very reliable juicer for whole-hearted juicing.
Pros
Easy to use and understand
Made from long-lasting materials
Auto-reverse action for more juice
Completely dishwasher-safe
Two reamers for fitting large and small fruits
Cons
The aluminum cup oxidizes the juice
Small for juicing big fruits
Buying Guide for the Best Juicer for Oranges –
Features
While looking for a juicer, you must note the features first. Most ones nowadays possess advanced features like anti-drip spouts, built-in sensors, reverse-spin technology, different-staged blades, and many more. These cutting-edge features can eradicate your work time a lot. Therefore, checking them is a big fact to consider before buying a good juicer for oranges.
The Juice yield
The more juice a juicer can produce, the better it is! What more do we need from a juicer rather than a high juice yield? For this reason, you should always consider the juice yield of it before making the purchase. Many companies will say that their products produce more juice.
But, you should not judge based on any comment. Instead, research and look through multiple best juicers on the market to gather information. You can even ask for honest reviews from people. These things will help you get the perfect high-juice yield-producing juicer.
Manual or Electric
There are mainly two types of citrus or orange juicers on the market. Electric and Manual. Both use distinctive methods for juicing and have their benefits and demerits. So, your job is to learn about both and buy the suitable one later.
An electric citrus juicer runs on electricity. Though the frequency is not as high as a centrifugal juicer, it is enough to juice oranges and most citrus fruits. Usually, these have a motor with 20-150 watts. You can extract juice efficiently with electric juicers due to their unique features and swift working process. However, these ones often keep the pulp wet which can be a thing to think about.
On the other hand, manual juicers are easier to use. You can use them with your hand. They mostly have a lever to squeeze or press with your hand to extract fresh juice from various citrus fruits. Though these juicers take time to extract juice, they can keep the pulp completely dry.
There are also some good centrifugal juicers on the market for juicing oranges and citrus fruits. But, they are not much high in number and can be costly as well.
Budget Friendly
Money is always the root of everything. Right? Whenever we wish to buy something, we think about the price first. Only the people who don't bother about budget purchase anything without checking the cost. But, when buying a perfect juicer for oranges and citrus juice, you should consider the price.
Usually, the price varies according to the type of performance you expect from it. If it's a manual one, the price will be around 15$-150$. On the other hand, electric juicers cost around 70$-300$ as well. You will see juicers being sold at less cost and discounts too. Therefore, set up a proper budget first!
Durability
Durability means how long the product will last based on how strong it is. Usually, the durability of any product depends on the materials, designs, and chemicals. For this reason, you should check the material first. Most citrus juicers have plastic, stainless steel, and other materials. The ones that are made with plastic are needed to be taken good care of.
However, there are many outstanding and long-lasting plastic juicers on the market now. So, make sure that the plastic is of good quality. Lastly, check if some parts are BPA-free or not so that you can keep the juice healthy.
Some Common FAQs –
Can you use a juicer for oranges?
Yes. You can use a juicer for oranges. People mostly use citrus juicers for efficiently juicing oranges. So, if you buy a good citrus Juicer, you can juice oranges perfectly!
Can you juice oranges in a cold press juicer?
Yes. You can juice oranges in cold press juicers. They can process oranges, apples, and many other citrus fruits perfectly. Therefore, if you have a cold press juicer, you can efficiently juice oranges without any trouble.
Should I peel oranges before juicing?
Peeling depends on the type of juicer you are using. For instance, you will not need to peel the orange for juicing it in a citrus Juicer. But, you have to peel if use a centrifugal or cold-press juicer since the orange skin has a lot of oil and a bitter taste.
Is a citrus juicer worth it?
A citrus juicer can juice a variety of citrus fruits like oranges and lemons. If you desire to drink fresh citrus juice every day, a citrus juicer will be worth a lot for you! It can save you time and improve your health as well as your energy.
Is orange juice wasteful?
If we peel the skin of an orange, we mostly throw it in our bin. Just like that millions of people do the same. Orange juice-producing factories gather a huge amount of orange skin waste every month. All this waste is dumped by fire, producing carbon dioxide that makes life difficult for us.
How many oranges do you need for a juicer?
The answer to this question depends on the amount of juice you need and the type of orange you juice. Approximately, you will need three oranges for one cup of juice. But, if you use Navel, Blood, or Valencia oranges, you will need one more or one less as they have a high or low juice yield.
How do you cut an orange for juicing?
Take a slightly small but sharp knife and hold the orange in your hand. Start cutting the skin from the top and straightly come to the bottom. Do the same from two opposite sides. After making two straight cuts from both sides, just pull the skin from the orange. It is a very simple technique!
What kind of oranges can you juice?
There is a variety of oranges in the world. Among them, the best oranges for juicing are Navel oranges, Blood oranges, Valencia oranges, Clementine oranges, Tangerine oranges, Satsuma oranges, etc.
Can you put orange peel in juicer?
Most citrus juicers can handle the orange skin easily. There is no need for peeling them. So, if you put the orange peel in a juicer it won't make much difference unless it's a centrifugal or masticating juicer. Many people also zest orange peel to produce different essences and baked items.
Can you juice oranges in a Breville juicer?
The Breville juicer has a good reputation for juicing. It can juice most types of fruits perfectly. So, you can juice oranges in a Breville juicer without any hesitation.
Conclusion
Oranges are always a healthy and beneficial choice for juicing. But you need to make sure that you get the perfect juicer for that. We have given all the necessary information about the best juicer for oranges here. We hope with this information, you can get the perfect orange juicer!